COERS Trainingsstage 2023
08-02-2023
Gran Canaria
COERS Trainingsstage Gran Canaria 2023
Februari, de maand om de basis te leggen voor een nieuw seizoen vol wereldavonturen. Van 8 tot 15 Februari trekt de COERS Cycling Club naar Grand Canaria om precies dat te doen! Geen fiets poetsen, regenkleding of Zwift, maar in kort-kort duurtrainingen afwerken in een schitterend landschap met hoogtemeters! Daarnaast zal er deelgenomen worden aan de tweedaagse EPIC Gran Canaria!
Op 8 Februari begint de jaarlijkse COERS trainingsstage in Gran Canaria. Zoals gewoonlijk zullen er meerder villas afgehuurd worden op het Bahia Meloneras park. De verblijven zijn van alle luxe voorzien, en vormen de perfecte uitvalsbasis voor een week fietsplezier in het wieler walhalla van de canarische eilanden. 
Gran Canaria is een eiland van vulkanische oorsprong. Dit maakt het eiland enorm geschikt voor fietsen. Langs de kust kunnen relatief vlakke tochten gemaakt worden, terwijl als je landinwaarts gaat je de Pico de las Nieves kunt beklimmen. Bijna alle wegen leiden naar de top van deze uitgedoofde vulkaan, waardoor je heel makkelijk kan afdraaien wanneer je genoeg hebt van het klimmen.
Het weer is ook uitstekend om te fietsen. In februari is het er al ruim boven de 20 graden. De noordoost-passaat brengt koele lucht mee waardoor het aangenaam vertoeven is.

Behalve trainingstochten vanuit Maspalomas, staat ook de tweedaagse EPIC Gran Canaria op het programma. De EPIC Gran Canaria is een tweedaagse cyclo rond Maspalomas. Op de eerste dag staat een etappe van 115 kilometer op het programma, met daarin de Cima Pedro Gonzalez en de Alto de Ayacata. Op de tweede dag volgt een etappe van 75 kilometer met daarin de Pueblo Tunte. Iedereen is zelf verantwoordelijk voor zijn of haar inschrijving. De inschrijving opent HIER op 25 november.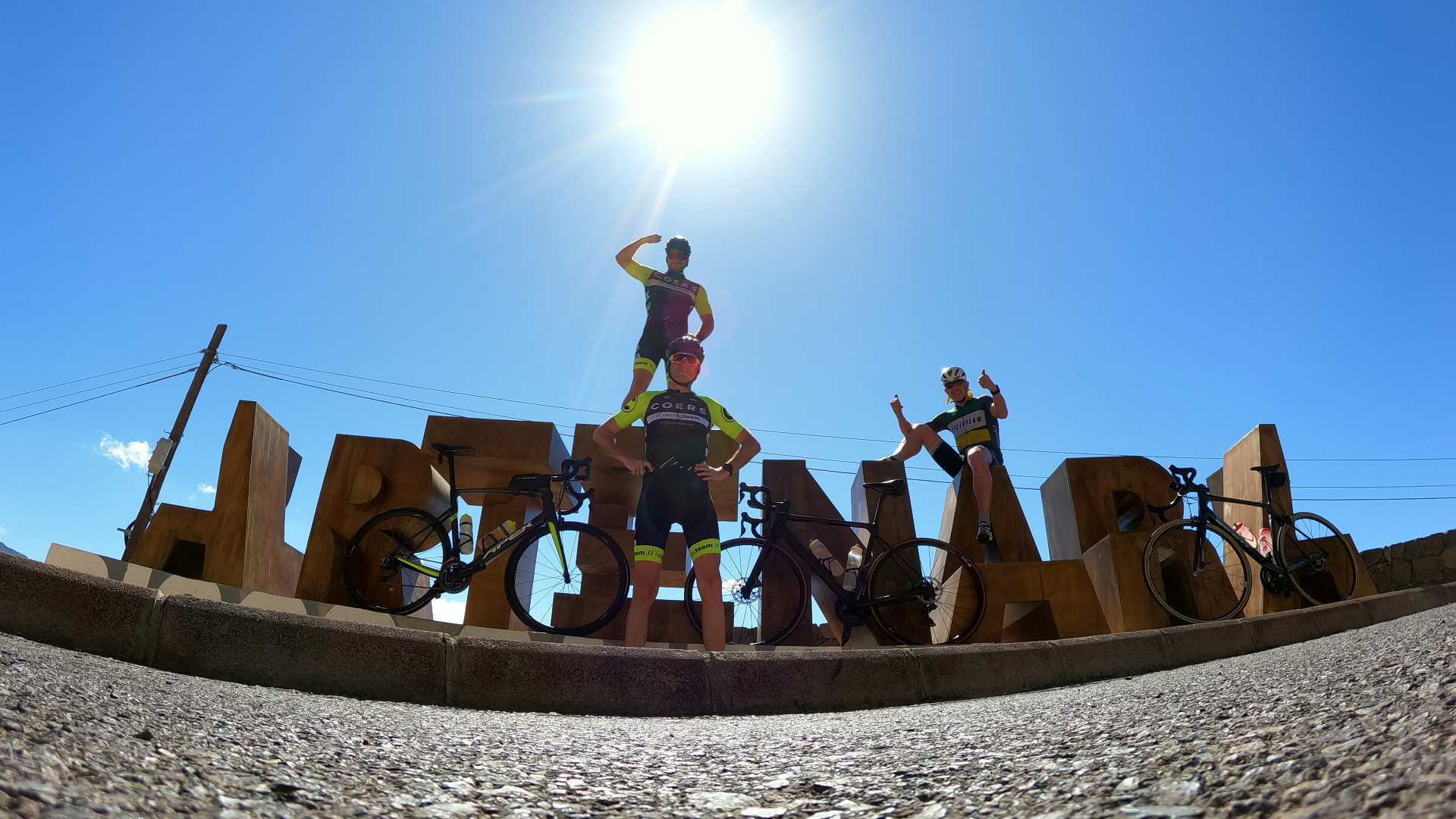 Programma
08/02/2023 – Vlucht naar Gran Canaria
08/02/2023 – Aankomst en fiets uitpakken
08/02/2023 – Koffie Ritje (60 tot 80 kilometer)
09/02/2023 – Rondje Pico de las Nieves (150 kilometer)
10/02/2023 – Ritje in de ochtend, Ophalen rugnummers EPIC Gran Canaria in de avond
11/02/2023 – EPIC Gran Canaria dag 1
12/02/2023 – EPIC Gran Canaria dag 2
13/02/2023 – Recovery ride (70km)
14/02/2023 – Rondje Eiland (200+km)
15/02/2023 – Vlucht terug naar Nederland
* Dit is een concept programma, het definitieve programma volgt spoedig
** Het staat iedereen vrij om ritten langer/korter te maken of geheel over te slaan
Op dit moment wordt er nog hard gewerkt aan het definitieve programma, maar de week zit al helemaal vol! Zet jezelf op de reserve lijst door hieronder je gegevens achter te laten!
Aanmeldformulier COERS Trainingsstage Gran Canaria + EPIC Gran Canaria